Overview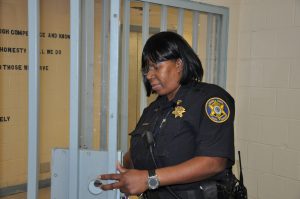 JOB DESCRIPTION
Provides for the safety of staff and inmates and the security of the detention facility; supervises inmate activities, and performs related corrections work as assigned.
---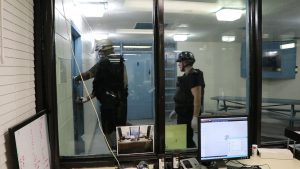 ESSENTIAL DUTIES AND RESPONSIBILITIES
Maintains the security and safety of the County's detention facility, inmates and staff through implementation of established policies and procedures.

 Monitors jail access and egress.

Monitors security cameras, alarm systems, automated locking systems and other specialized security equipment.

Patrols facility to ensure security; inspects locking and security devices and doors for proper working condition.

Processes and books inmates; searches, photographs and fingerprints inmates; secures inmates' property and issues clothing and supplies; establishes inmate records and accounts; completes medical screenings; receives and processes inmates for weekend sentences; escorts inmates to proper housing locations.

Performs initial classification of all new arrivals; conducts NCIC background checks on new inmates.

Supervises meals, visitation, recreation and exercise, telephone privileges, counseling, court visits, movement within the facility, and medical attention; conducts head counts regularly.

Maintains key and tool control.

Supervises inmate workers.

Ensures that inmates are provided with appropriate sanitary conditions, clothing and supplies; administers First Aid and/or CPR as required.

Routinely searches inmates, cells, kitchen and other inmate-accessible areas for contraband and other safety and security hazards.

Observes and maintains orderly conduct among inmate population; subdues unruly or violent individuals; responds to emergency situations on jail property; investigates incidents, crimes, disputes, abuse of drugs, etc., among inmates.

Performs other similar duties as required
---
  SPECIFICATIONS / QUALIFICATIONS
Methods, organization, and operation of a County detention facility;

Structure, functions, and inter-relationships of state and local law enforcement agencies and detention facilities;

Enforcement procedures;

Methods of detention and incarceration;

Firearms, restraining devices, automotive, radio, and other law enforcement and security equipment;

State and federal law, departmental and county policies, and state and federal standards pertaining to corrections
---
SKILLS:
Comprehending, interpreting, and applying regulations, laws, and detention methods and techniques;

Written and verbal communication via in-person, phone, and email contact;

Utilizing taser equipment and restraining devices;

Reacting calmly in emergency and stressful situations.
---
EDUCATION / EXPERIENCE:
High School diploma or equivalent, with no experience required.
---
LICENSING / CERTIFICATIONS:
Class II Basic Jail Certification from the South Carolina Criminal Justice Academy;

Valid South Carolina Driver's License;

CPR and First Aid certifications.
---
WORKING CONDITIONS / PHYSICAL REQUIREMENTS
Exerting up to 100 pounds of force occasionally, up to 50 pounds of force frequently, and/or up to 20 pounds of force constantly having to move objects.

Positions in this class typically require fingering, talking, hearing, seeing, grasping, standing, walking, repetitive motions, stooping, kneeling, crouching, reaching, climbing, balancing, pushing, pulling, and lifting.

Positions in this class may be exposed to moving mechanical parts, odors, dusts, poor ventilation, chemicals, oils, extreme temperatures, inadequate lighting, intense noises, gases, workspace restrictions, and vibrations.
---